Discover more from DrumBeats
Community news from across Louisiana
Artist Malaika Favorite teams with Disney to create new mural for 'Tiana's Bayou Adventure'
This longtime artist member of the Baton Rouge Gallery Center for Contemporary Art, Favorite has been helping to shape the art of Louisiana for decades
Accomplished visual artist and published poet, Malaika Favorite has teamed up with both Walt Disney World Resort and Disneyland Resort on a new mural as part of Tiana's Bayou Adventure, a new attraction inspired by the animated film, "The Princess and the Frog." The attraction will open next year.
Favorite's mural for the attraction will continue the film's storyline with collages of, as Disney puts it, "breathtaking scenes displayed on two of the building's exterior walls" as visitors enter the ride's indoor queue area.
The mural will focus on things that Tiana and her family valued most: "family, friends, food, music, art, and bringing folks together." The scenes will also highlight the central character's journey as Favorite creates Tiana's Foods – an employee-owned cooperative that grows a wide array of vegetables, herbs, and spices with a boutique farm and both a working and teaching kitchen.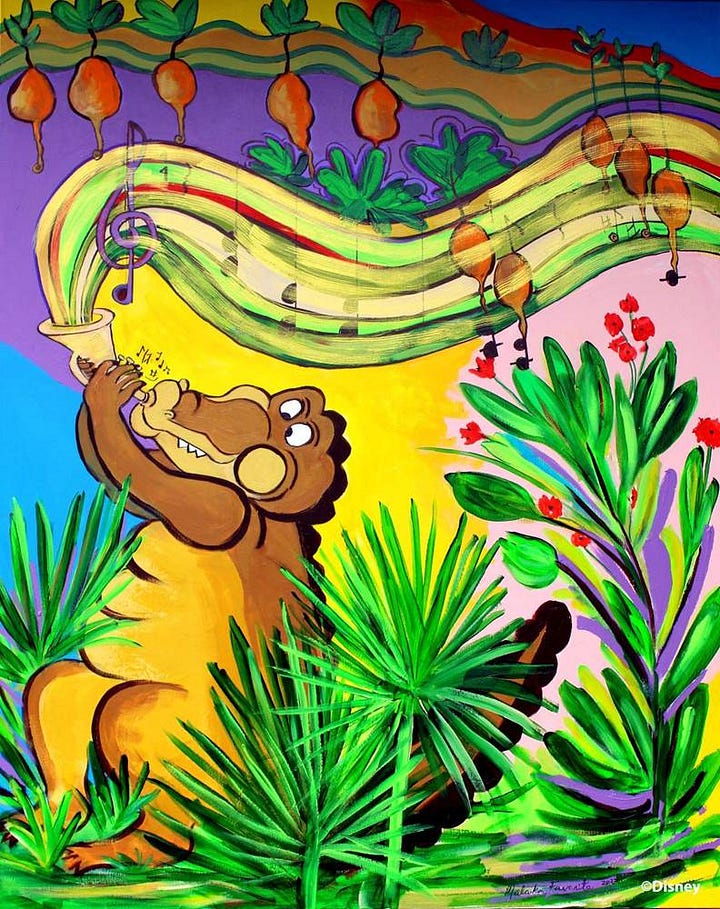 A longtime artist member of the Baton Rouge Gallery Center for Contemporary Art, Favorite has been helping to shape the art of Louisiana for decades. A native of Geismar, Louisiana, Favorite has built a lasting legacy as an artist eager to facilitate a dialogue between the viewer and a work of art that reveals a new dimension every time they visit it.
She works in a wide array of media, allowing her flexibility to employ canvas, wood, paint, metal, and more to create an elaborate assortment of shapes and narratives.
"When we were exploring how to introduce guests to the story of Tiana's Bayou Adventure as they prepared to embark on the attraction, maintaining the authenticity of Princess Tiana's experience as a young Black woman striving to achieve her dream in the soulful backdrop of New Orleans was one of our highest priorities," said Carmen Smith, who is the Sr. Vice President of Creative Development – Content, Product, and Inclusive Strategies for Disney Parks. "It only makes sense that an extensive search for an artist who could bring our vision to life brought us to Malaika's doorstep."
This December, Favorite will open a new exhibition at the Baton Rouge Gallery, titled "Veiled." The exhibition will be open to all, free of charge, Nov. 14 - Dec. 20, 2023. A First Wednesday Opening Reception for Favorite's exhibition (along with co-exhibitors Jamie Baldridge, Frankie Gould, and April Hammock) will be held from 6-9pm on Dec. 6.
Preview her work at batonrougegallery.org/malaika-favorite.